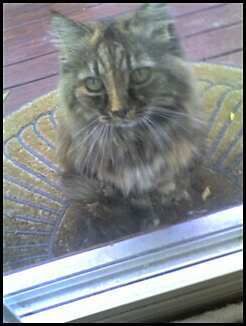 She was the neighbor's cat. She came over nearly everyday for two years to nap all day on our deck. Then she'd go home for dinner and come back the next day. She was a total sweet heart and learned quickly not to try to come in. I'd pet her and give her a good scratch behind the ear which she loved and then I would run in and wash my hands (We're VERY allergic to cats).

Anyway one evening when I was cooking I had the sliding door open and she was making these odd noises like she was in pain or something. I stepped out there to check on her and she meowed and purred when I pet her. Then she went home. In the morning she was in my deck chair per her normal routine. Later that day when it got really hot she moved down in our back yard by the fence. It was nice and shady there.

I didn't think anything of it because she had been doing that for a few days and would go home later. That night a fox was out by my fence barking and barking (who knew they did that?) and I ran it off after a couple hours of it. It was pitch black so I couldn't see anything. The next morning when I got up to go to the bathroom I saw something brown out there on the ground. I didn't have my glasses on so I grabbed them to see. I thought maybe the fox was curled up there asleep and would run when I opened the door. It didn't move and I walked over to see it was the cat. She was breathing but couldn't lift her head up and she was shaking. It was really cool that night.

I ran over to the neighbor's house and there was this HUGE orange cat on their steps. I thought it was hissing at me at first but it was just trying to breath. It is so fat is can't breath! Anyway he didn't answer but I knew he was home since the garage to his antique cars was open. So I ran over to the other neighbors (still in my PJ's, lol) to see if she had their phone number. She yell's down since the front door was open that she'd be right there as soon as she put her shirt on. She had just gotten out of the shower. I called and left a message and was going to hop in the shower so I could run the cat to the vet since I figured the neighbor went out for coffee or something. But he came over right away to get the cat.

His girlfriend (the cat's owner) had been looking for the cat all night. They took the cat to the vet but she didn't make it. She was 17 years old and had some sezures in the past. The sad part is every morning out of habit I look out on the deck to see if Angela has come over for her all day nap.